Say What? Reading Double Speak
Were you thinking this is an article about some of the conflicting data about literacy theory? Sorry to disappoint! This is our Reading with Kids Series, where we celebrate books that engage young listeners and readers with the experience of reading. We have had fun with words and books that make you laugh out loud.

Next up: books that explore the multiple meanings of words. Say what? Yep! As our title suggests, words can have many meanings. Weave them together into a story and Voila!
These are some our favorite books that play with words in ways that make the reader think and laugh!
Say What? Books with Visual Illusion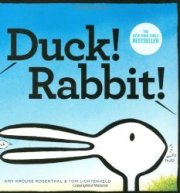 Duck! Rabbit!
written by Amy Krouse Rosenthal; illustrated by Tom Lichtenheld
Chronicle Books, 2009
It's a simple image, or so it seems. One narrator says it's a duck. The other says it's a rabbit. Can it be both? This is a book that demonstrates that one thing can be interpreted different ways.
A simple illustration carries along this story about two (off-page) viewers who seem to see one thing in two different ways.
More Imagery Fun @ The Reading Tub
Say What? That's Pun-y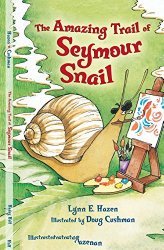 The Amazing Trail of Seymour Snail
written by Lynn E. Hazen; illustrated by Doug Cushman
Henry Holt and Company, 2009
Seymour's house is filled with his sculptures and paintings. Seymour liked them, but he wasn't sure anyone else would. When his friends discovered his talent, they encouraged him to get a job. Ultimately, he took a job with the Speedy Arts Gallery as the errand snail: sliming envelopes, making deliveries.
A snail working in the Speedy Arts Gallery? Seymour Snail illustrates different ways of playing with words. This is an illustrated easy reader for developing readers, but it is also a nice choice for a read aloud book when you're ready to read longer stories (but not yet chapter books).
More Word Play @ The Reading Tub
Say What? At a Loss for the Right Word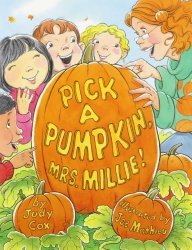 Pick a Pumpkin Mrs. Millie
written by Judy Cox; illustrated by Joe Mathieu
Marshall Cavendish, 2009
Mrs. Millie is a silly, silly teacher! She is taking her class to the pumpkin patch, but she gets all her words mixed up! In stead of saying "It's NICE to see you!" she says, "It's MICE to see you!" Each page has one mixed up word, with an illustration to match! Each time, the children in the class say "We know what you mean! You mean SEE the animals!).
This is a funny picture book that sneaks in learning about words with humor.  If you don't read it exactly as the text appears on the page, sometimes there is more than one word that fits the story and also rhymes, and it's fun to see what the kids come up with on their own.
More Word Oops' @ The Reading Tub
Your Turn …
Now its your turn to say what books you love that play with words!