Shop and Support Literacy, Too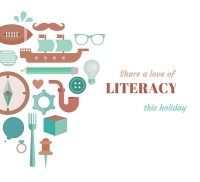 One of my favorite things to do during the holidays is shop for books. Yes, I like browsing the bookstore (and library!) shelves all year long. At Christmas, though, I wear a different hat. Instead of looking for books that I will like, I wander through the aisles in search of books that are "just right" for the person on my gift list.
Laugh-out loud books for the preschoolers
Thrillers for the mystery lover
Biographies for the history lover
Cookbooks for the FoodNetwork addictees
Sadly, not everyone loves books or reading or Amazon.com. Thankfully, I have an alternative. I can shop for gifts at their favorite stores AND support my literacy passion.
Shop = Gift + Literacy
Best of all, you can do it too! For the past several years, I have done my holiday shopping through Goodshop.com

Here's a little secret – Goodshop has C-O-U-P-O-N-S at many of the participating 2,500 retailers. [Crate & Barrel coupons anyone?]
I save on the holiday purchases when I shop for my in-laws (shhh!), and Crate & Barrel puts a percentage of the purchase to the charity of my choice – The Reading Tub!
A win-win-win this holiday! Lots of people will be asking for donations this holiday. Goodshop.com offers you a way to shop for gifts AND donate to a cause you're passionate about … without stressing you or your budget.
Feel free to use our Share a Love of Literacy banner on your website, blog or via social. We only ask that you credit the Reading Tub for the image and use either of these links
http://www.goodsearch.com/nonprofit/reading-tub.aspx
http://family-bookshelf.org/

shop-for-books

-give-to-literacy
If you  need a different size banner, please email me at thereadingtub [at] gmail.com. I'm happy to send you something.