Summer Laurie: Summer's Reading List (guest post)
Last week,Rana DiOrio [Chief Pickle at Little Pickle Press] invited us to share a post about summer reading. Their featured blogger was none other than Summer Laurie, freelance editor and children's specialist at Books Inc. Given how we love sharing book ideas, it seemed only natural to share Summer's Summer List on the Family Bookshelf, too!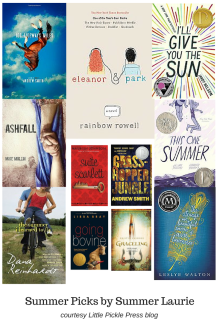 Ah the lazy days of summertime. What I wouldn't give to be able to experience summer break again. But today's teen has it even better—there is now an exploding genre of funny, frightening, heart-stirring, literary, inspiring books written just for them. No more pawing through the classics or sci-fi shelves to find something interesting. Just sticking a toe into the teen end?
Here's a list of ten books you should check out. It's not necessarily the "top ten" or the ten latest releases, but ten books that should be read. The first five are particularly attuned to the season, the rest just incredibly good books.

Happy Reading! ~ Summer Laurie
Summer Laurie's Picks for Summer
The Summer I Learned to Fly by Dana Reinhardt—I call this a bridge book since it is pitch perfect for kids waving good-bye to middle grade novels and taking their first steps into young adult.
This One Summer by Mariko and Jillian Tamaki—Award-winning graphic novel of two girls leaving adolescence behind as their annual summer vacation at the lake just feels different this year.
Going Bovine by Libba Bray—Crazy, weird, hallucinatory road trip narrated by a wonderfully unreliable narrator with Mad Cow Disease.
Suite Scarlett by Maureen Johnson—Take this one to the beach. Or on a plane. Purely joyous story of the summer Scarlett spends covering for her older brother, and crushing on his actor friends, all while saving the family hotel from ruin.
Ashfall by Mike Mullin—Two teens must survive an environmental apocalypse. Cliff hangers on every single chapter. Luckily it's the first in a trilogy.
I'll Give You the Sun by Jandy Nelson—This year's Printz Award winner was my favorite book of 2014. Poetic study of love and identity in all its forms. A masterpiece.
Eleanor & Park by Rainbow Rowell—I have wondered if the author secretly stole my high school diaries for research. I feel like I lived this book of finding first love and your place in the world set in the '80s.
The Strange and Beautiful Sorrows of Ava Lavender by Leslye Walton—Hauntingly beautiful debut novel of three generations of women trying to break a family curse…or is it a blessing. Hand it to an adult friend, just don't say it's YA.
Graceling by Kristen Cashore—High fantasy at its very best. Read all three in the trilogy. Then read them again.
Grasshopper Jungle or 100 Sideways Miles by Andrew Smith—I couldn't choose between these two. Intense, gritty, raunchy, fresh, and true. No one writes a male teen voice like Andrew Smith.
Worth Noting
Not only are these books available in print, many are also available as audiobooks, too! Perfect for laying by the pool and listening while you relax! All of our links go to Amazon.com where you can find print, Kindle, and audio versions.
About Summer
from Summer Laurie's Jacketflap page.
I am an independent children's book editor.
I am a children's bookseller with the oldest independent bookstore chain on the West Coast.
I am very dependent on my friends, under-eye concealer, and chocolate.
After ten years working in-house at children's book publishers–most recently as senior editor at Tricycle Press, the kid's division of Ten Speed Press, and previously at Chronicle Books for Children–I decided to head out on my own. Over the years I have edited more than 50 published books ranging from board books to picturebooks, middle-grade novels to non-fiction.
Admin:
The Reading Tub has an affiliate relationship with Amazon.com. We can earn money from purchases made through those links. All money goes to our literacy mission, not overhead.