#TBT Book Review – How Do Dinosaurs Say I Love You?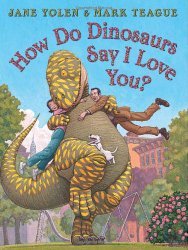 How Do Dinosaurs Say I Love You?

written by Jane Yolen
illustrated by Mark Teague
Scholastic, Inc., 2009
So? How does he do it? Even after he's been a naughty dinosaur, he will turn and smile, with a hug and a kiss, and that's how he says he loves you! And you know, you love him back.
This is a picture book story about unconditional love.
Reading Tub Review Date: April 2010
Why a Throwback Thursday for Book Reviews?
Those of us who blog about books are a community. We read lots of books, we write lots of reviews, and we share those reviews with fellow book lovers and those in search of books for children and teens on our blogs, websites, and via social media.
We write so many reviews that, over time, they get buried by other, newer reviews. BUT! that book we read three years ago will always be new to some reader, somewhere. So why not share that review with a new audience?
Everyone is welcome! Here are the participation guidelines:
If you reviewed the same book we're featuring, add your permalink to the original review on the Reading Tub website or in the InLinkz Linkup.
Want to (re)share a review you posted in June 2009, then add your permalink in the InLinkz Linkup. [No, it doesn't have to be a book you loved; but it does have to be a review you take a lot of pride in.]
Add any notes about the review in the comments, please.