TBT Book Review – The Super Sluggers: Slumpbuster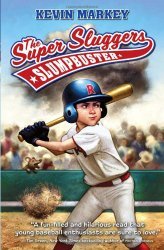 The Super Sluggers: Slumpbuster
written by Kevin Markey; illustrated by Royce Fitzgerald
HarperCollins Publishers, 2009
Eleven-year-old Banjo H. Bishbash is a phenomenal hitter for the Rambletown Rounders Little League team. His teammates call him "The Great Walloper" because of his prowess with a baseball bat.

Things were going well when, out of the blue, The Great Walloper fell into a serious batting slump. The Rounders had expected to win the championship this season but without Walloper's bat the team's chances were very bleak. Can the Rounders find a way to bring a championship home to Rambletown?

This is a first-person story about baseball, friendship, and self esteem.
Reading Tub Review Date: June 2009
Why a Throwback Thursday for Book Reviews?
Those of us who blog about books are a community. We read lots of books, we write lots of reviews, and we share those reviews with fellow book lovers and those in search of books for children and teens on our blogs, websites, and via social media.
We write so many reviews that, over time, they get buried by other, newer reviews. BUT! that book we read three years ago will always be new to some reader, somewhere. So why not share that review with a new audience?
Everyone is welcome! Here are the participation guidelines:
If you reviewed the same book we're featuring, add your permalink to the original review on the Reading Tub website or in the InLinkz Linkup.
Want to (re)share a review you posted in June 2009, then add your permalink in the InLinkz Linkup. [No, it doesn't have to be a book you loved; but it does have to be a review you take a lot of pride in.]
Add any notes about the review in the comments, please.