#TBT – The Big Apple Edition
Here in the States, we are one week from Thanksgiving. Just thinking about Turkey Days past warms my heart and makes me smile. Oh, the smells …
But I digress. About 20 years ago, I had a short stint of living in New York City. My husband lived and worked in Manhattan, and we commuted between Washington, DC, and New York most weekends. Fall of 1991, I got a 6-month internship in New York, which allowed us to enjoy the city at its most wonderful time of the year.
That picture to the left was taken the weekend before the Macy's Thanksgiving Parade. We were walking through Central Park, and a team of balloonists was practicing with what would be Babar's breakout year as a member of the parade.
So in honor of that memory, I am sharing a lightly-edited version of the original post, complete with our excerpted review of Milly and the Macy's Day Parade. [Link to full review]
---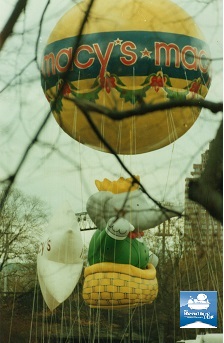 Yeah! One of my favorite holidays is almost here.
Thanksgiving is a mere blip in the drive to the December holidays, but I love it all the same. Lots of holidays have their traditions, but there is something uniquely special about Thanksgiving. Like many of you, I grew up watching the Macy's Parade on television Thanksgiving morning. That parade is still one of the highlights of my day.
Many moons ago, while living in New York City, Bill and I were walking in Central Park and we spotted a group marching with the new balloon that year: Babar. It was a windy day, and I was awestruck by just how hard it is to handle those balloons. Now, every year when we watch the parade, I am thinking of Babar, the volunteers, and that wonderful city. [I took that picture on our walk through Central Park.]
In the spirit of the season, I have pulled Milly and the Macy's Parade by Shana Corey from the archive for this week's Throwback Thursday book review. It is a semi-fictional tale about the parade's origins, as well as a celebration of family and tradition.
---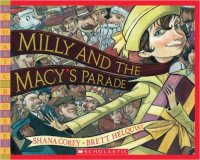 written by Shana Corey
illustrated by Brett Helquist
Scholastic, Inc., 2006
Set in 1924, this is the story of how a young girl convinces Mr. Macy to create a parade as a way to bring cheer to the immigrant families working for him who are missing their homeland. and Milly and her family are spending their first year in America. Together, Milly and Mr. Macy start a new holiday tradition that is "a little like the old country, a little like America, and a little like something entirely new."
From our reviewer:
I really loved this book. I thought author Shana Corey did a lovely job of intermingling fact and fiction to create an enduring American heritage and immigrant story. This book has quickly become one of my twins' all time favorites. I have lost count of how many times they have asked me to read it to them! My toddlers were immediately drawn to the whimsical and detailed illustrations. They found the character of Milly appealing, pointing to her and giggling at her adventures in the store. Hands down, their favorite part of the story was the end with the lively parade scenes.
Reading Tub book review: December 2009