Thanksgiving with a Literacy Side
Yeah! The kids are home. The schedule is "between seasons," so the kids need something to do. Why not let them help you get ready for Thanksgiving?
You may not be ready to hand over an apron, but there are other ways they can help. Here are some ideas that will keep them busy and use materials that you already have around the house. Who knows, they might even become new Thanksgiving traditions.
Thanksgiving Place Cards
We started using place cards when my daughter was learning to read.
One year we wrote out the names for her on a piece of paper, and she wrote them on her foam-cutout leaves.
Another year we lined them all up and would read out the name. She had to "pick" the right card from the pile and place it at the correct place.
In our house there was (lots) of glitter involved, but there are lots of ways to create Thanksgiving place cards.
Send the kids out to collect leaves, then use a Sharpie to write the name on the leaf.
Grab some construction paper and let them trace a cookie cutter.
Print copies of a leaf template they can cut out, color, and then write names on.
Fold index cards and let the kids decorate the card with drawings or stickers before adding a name.
Cutting paper, tracing, and drawing are great for building fine motor skills. Writing names is good for practicing letters and penmanship. [photo source: Pinterest.com]
Make a Hand-drawn Turkey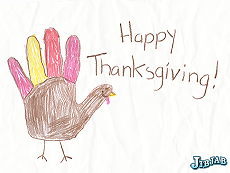 Who doesn't love a turkey drawn from a hand print? Grandma definitely will! Try this twist on a Thanksgiving classic.
Tape a piece of white paper to the wall.
Hold a hand up about 8 inches from the wall.
Shine the flashlight on the hand so it creates a shadow on the paper.
Trace the outside edges of the hand print shadow.
Once you've got the print transferred onto paper, it is ready for coloring or decoration (feathers anyone?).
The idea is to create a turkey bigger than the size of the hand shadow on the wall. It can be your hand that your child draws, or your child's hand that you draw – or both! This is an activity where older siblings can be involved (and free you up for older things).
This is a fine motor skill activity, that sneaks in a little bit of science too. Here is a great collection of images illustrating different turkey hands.  [Image source: JibJab Thanksgiving eCard]
Create a Gratitude Collage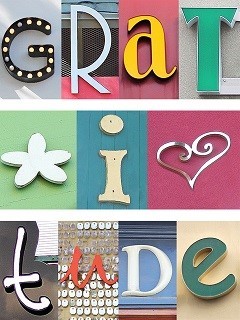 Giving thanks is at the heart of this holiday, and this project gives everyone a chance to share what the things for which they're grateful. Each family member makes his or her own collage or you create a wall mural to which everyone contributes.
Cut out images or words from magazines, catalogs, or (parent-approved) websites.
Create original drawings by hand or with a drawing program.
Use Word Art or hand-draw words that express gratitude.
Combine any / all of the above.
Smilebox.com has templates for Gratitude Collages, from simple card-like presentations to slideshows.
Two Bonus ideas:
make the collages the size of a place mat and use them on your Thanksgiving table.
Use the initial letters of the word "Thanksgiving" as the foundation for expressing gratitude.
[Image credit: KateWares.com]
Your turn …
What are some of the fun ways you're going to have a side of literacy this Thanksgiving?