Updated! YA Novel Preview – 2 books tackle the toughest stuff
There is something really, awesomely cool when two books by two different authors but with similar themes come into our reading life at about the same time. It happened to me this summer, when I received ARCs for Hello? by Liza Wiemer and Breath to Breath by Craig Lew. These are two YA novels that you'll want to keep an eye on. The title links above go to their Goodreads pages so you can add them to your TBR pile.
Hello? by Liza Wiemer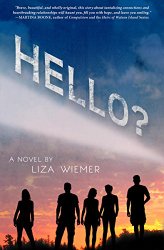 Like most teens, Tricia, Emerson, Angie, Brenda, and Brian are absorbed in their own lives, past and present. At nearly 18, Tricia is teetering between the overwhelming grief of losing her last living relative, pressure from a local real estate mogul to buy her childhood home, and a smothering boyfriend. Brian thought he loved Tricia enough to get her through it and live happily ever after; now he's not so sure what his future will be. Emerson knows he's ready to break up with Angie, but isn't sure how. For Brenda, being Angie's best friend and Brian's cousin makes it *easier* to keep life at bay. As they work through their own issues, they learn that their solutions might just lie beyond themselves and in their connections to each other. This is a young adult novel told from five points of view, with five writing styles.
Breath to Breath by Craig Lew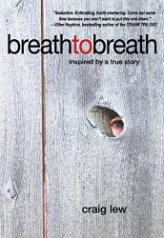 This ain't Kansas! Given the choice of Juve or leaving the only home he remembers, Gramps sends William to live with his dad in California. Now a senior in high school, William hasn't seen his father since he was four. Everything is all business with Mr. Stout: stay off the second floor; no friends in the house; and get a job to pay for anything beyond three squares. If it wasn't hard enough moving across country to live in the laundry room, being the new guy in high school isn't easy, either. Especially when you show up the star football player and his crew; get recruited and make the team; and befriend Shasteen, one of the hottest girls in school (who said football player has claimed as his). Soon, William encounters "Patches," a young boy who pops up at the oddest times, then disappears. Patches won't let go of William's thoughts, but how can he help?
As it turns out, Hello? and Breath to Breath are both expected to be released on November 10, 2015. That is not all they have in common. UPDATED 11/3: Breath to Breath is November 17, 2015.
Their characters are very real. You (and your kids) probably know people just like William, Shasteen, Emerson, Tricia, Angie, Brenda, and Brian.
Each character narrates the events of their lives, pulling the reader close to their hearts as they navigate life.
Despite having different narrative approaches, each character's voice rings true.
They tackle a really, really tough subject in a way that is thought-provoking and hopeful all at the same time.
In reading the blurbs for Hello? and Breath to Breath, you get a sense of some of the themes brought forth in these YA novels: life transitions, strained family relationships, grief and loss, even trauma. What you don't sense is "child sexual abuse." It isn't until you immerse yourself in the book that that reality smacks you upside the head.
For me, Breath to Breath and Hello? are emblematic of why #WeNeedDiverseBooks. Brenda and William are very real voices. In them, victims of child sexual abuse may find solace, a safe place for outrage, whatever they want to take from these narratives.
Before I put together this post, I reached out to Relish Media (publisher for Breath to Breath) and Liza Wiemer to make sure that my post doesn't interfere with their pending book launches. I also wanted to get their permission to draw out the theme they share in common: child sexual abuse. We don't write spoilers, but because  I am revealing an inner truth of the two books, I wanted to make sure they were OK with the idea.
Please bookmark this post. If / when you read these books, please come back and leave a comment! I'd really like to know what you think about these two YA novels.
YA novels that share similar "histories."
No one wants to think about – much less talk about – child sexual abuse. It is the ugliest of the ugly. But it is real. How can we help survivors if we don't bring their stories to light? I would liken the power of these two YA novels to the impact Cheryl Rainfield's Scars had on me.
When you read the foreword and afterwords of both books, you learn that both of the books are inspired by the real-life experiences of the authors and/or publisher. [Also like Scars.]
Characters with universal realities.
These aren't stories of "girl victims" or "boy victims." Hello? and Breath to Breath introduce us to what child sexual abuse can (and does) look like. What struck me immediately was the way how the books convey these experiences In Hello? Wiemer allows each of her five characters to narrate their life experiences (including dealing with each other) in their own way: Tricia journals, Angie's voice is free verse poetry, Brian uses sketches, Brenda *speaks* in screenplay. The variety and short chapters offer lots of options to readers of all levels and attention spans. Similarly, Breath to Breath is written in free verse poetry. William's voice is poetic and vivid.
In Breath to Breath, William shows us not only how boys can be victimized, but also multiple ways in which victims deal with their pain.
In Hello? Brenda is the abuse victim. She was old enough to remember the incidents, but fearful and afraid for her life.
Because both characters speak for themselves in the story, readers have a more intimate perspective of what the aftermath of abuse can "feel" like. That does not mean that we can fully understand their pain. I accept that, but empathy can pretty powerful. Hello? and Breath to Breath offer an opportunity for meaningful discussions for teens, parents, adults, and counselors. They are proof positive that "healthy discussions" and "uncomfortable discussions" are not mutually exclusive.
Characters Who are not defined by victimization.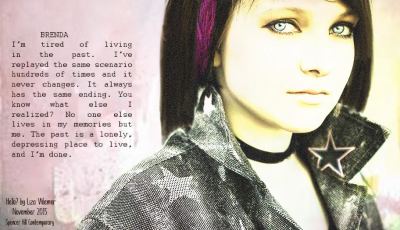 William and Brenda are survivors. Heroic, powerful individuals. Not just for being able to *finally* let the pain surface, but in how they chose NOT to let being a victim define them. Because Breath to Breath is inspired by a true story, readers can learn more about William. But I would add that as I closed Hello? I could see a very strong Brenda with a hopeful future, too.
Their flaws are human – and as a reader I found myself looking past what happened TO them to getting to know them as people. Which in a way brings us back around to an earlier point – we probably know abuse victims but may not ever know they've been abused. This passage from Hello? is directed to Emerson, but it equally speaks to Brenda and William, too.
I also believe we're here to learn and grow and make a difference in this world for as long as we're blessed to be here … we can take the gifts we've been given and self-destruct, or use those gifts for good. You're a smart kid. You have many fine qualities and talents. Stop wondering why your life was saved. Accept that it was, and do your best with what you have, knowing you'll make mistakes. You're not perfect and you never will be."
YA novels that are accessible to all readers.
You might be surprised to learn that William tells us he likes to read.
I'll miss American Idol?
That's fine with me.
I'd rather lose myself for hours in a book
than waste one minute watching TV.
A high school boy that reads?! I know, right? In addition to letting the reader know its okay for boys to read, Lew's free verse poetry keeps the sentences short and vocabulary simpler. The words are familiar and powerful, pulling in dormant readers.
In Hello? Angie writes in free verse poetry, as well. Brenda relates the events of her life as a script (complete with stage directions). That form, also, invites readers who don't like pages crowded with words. I became so engaged in the story that it was easy to move seamlessly among the journaling formats [Emerson, Tricia], script, and free verse poetry.
How to Get Help
Breath to Breath and Hello? are works of fiction, but they deal with realities we wish didn't exist. In addition to being YA novels, they are resources for readers.
At the end of Hello? you'll find links for resources for victims of sexual assault.
Breath to Breath closes with an afterword by Dr. Donna A. Gaffney, a psychotherapist committed to the health and healing of survivors of sexual violence. She also lists resources for recognizing sexual abuse, as well as help for victims.
Did I wish we didn't have to talk about – or read – stories of child sexual abuse with teens? YES. Is it really an option? Not hardly. With YA novels like Breath to Breath and Hello? we may have reached the perfect voices for not only sharing survivors' stories, but educating ourselves, as well.
Full disclosure: breath to breath is being published by Relish Media, an imprint of Little Pickle Press. LPP President Rana DiOrio and I have worked together for many years, ever since the Reading Tub reviewed her first picture book What Does It Mean to Be Global? (2009). I met Liza at BookExpo America 2015 (thank you Twitter!), where she gave me the ARC for Hello? My relationship with these women in no way affected my review of these books.
Reading Tub review of Breath to Breath by Craig Lew: http://thereadingtub.com/childrens-book-reviews.php?book=BREATH-TO-BREATH-by-Craig-Lew
Reading Tub review of Hello? by Liza Wiemer: http://thereadingtub.com/childrens-book-reviews.php?book=HELLO-by-Liza-Wiemer
Visit these pages and use the InLinkz linkie to add your review.
Novel Preview: YA lit